Weddings By Design
Reverend Aubree-Lynn
An ordained minister, nurturing teacher, engaging speaker who embodies the compassionate spirituality, the supportive warmth, the compelling presence of an accomplished master. Each of her designed-for-you ceremonies is a heart-resonant exploration of truth, beauty, clarity, and inspiration.

Weddings
Membership of the Center is not mandatory. However, we invite you to visit one or more of our Sunday services before your special date.
Vow Renewals
Consult with Rev. Aubree-Lynn on your wishes to make your vow renewal unique to you and yours. Unity members need only donate a love offering to the Minister and/or the Center. Others may discuss pertinent fees in your initial consultation with Rev. Aubree-Lynn.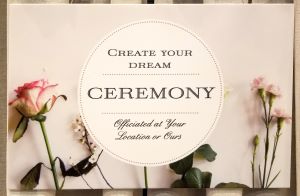 Celebrations of Light & Life (Memorials & Christenings)
Memorials and Christening/Baby Naming services are available. Please call Unity Spiritual Center (920-452-5447) for more information.
Fee Information:
Let us customize your special event by implementing one or more of the following services. Please note that these prices are estimated and may fluctuate based upon the level of your requests.
Minister:
$300+ depending on the size of the wedding and services required. Arrangements may also be made for outdoor or off-site services.
Facility:
$300 Ceremony
$100 Rehearsal
Our sanctuary seats 100 people.
Unity members will receive discounted prices on facility fees.
Sound System:
$100 Ceremony
Music:
$125 Guitarist Only
$250 Guitarist & Vocal
$400 Small combo
Food may be served downstairs in our Community Room for up to 40 people.
Tables, chairs, and a small kitchen are available for use.
We require a $300 deposit for the use of this room. $150 of which will be returned for cleanliness.
In General:
All ceremonies require a $250 security deposit to reserve a date, refundable up to 30 days prior to the event.
Thank you so much for considering our beautiful community to house your special occasion.
We look forward to exceeding your fondest wishes for your very special day.